The first location of the House of Quantum opened in Delft last Monday. The Dutch Minister for Economic Affairs and Climate Policy, Micky Adriaansens, officially opened the building during a festive event in the presence of among others Techleap.nl Special Envoy Constantijn van Oranje, founders, investors and knowledge institutions like TU Delft.
House of Quantum further strengthens the quantum ecosystem in Delft. With QuTech, QuantumDelft and the scientific research of TU Delft, this cluster has a globally leading position in the field of quantum research and innovation. The first companies that have settled in House of Quantum all come from the Delft community: Orange Quantum Systems, Qblox, Quantware and QphoX.
Accelerating quantum technology

"Quantum technology is a promising field of technology and the Netherlands has world-leading research facilities", minister Adriaanse said during the opening ceremony. Now is the time to convert our academic lead into economic activity. Fruitful public-private cooperation like The House of Quantum plays a central role in this process. Here, all blood groups and disciplines from the ecosystem come together to accelerate the application of quantum technology."
High-end lab space
In addition to office spaces, House of Quantum also offers workspaces and high-end lab facilities, which are often too expensive for start-up companies. SMEs and larger companies are also welcome. They can establish an office or lab or join through co-working and community memberships.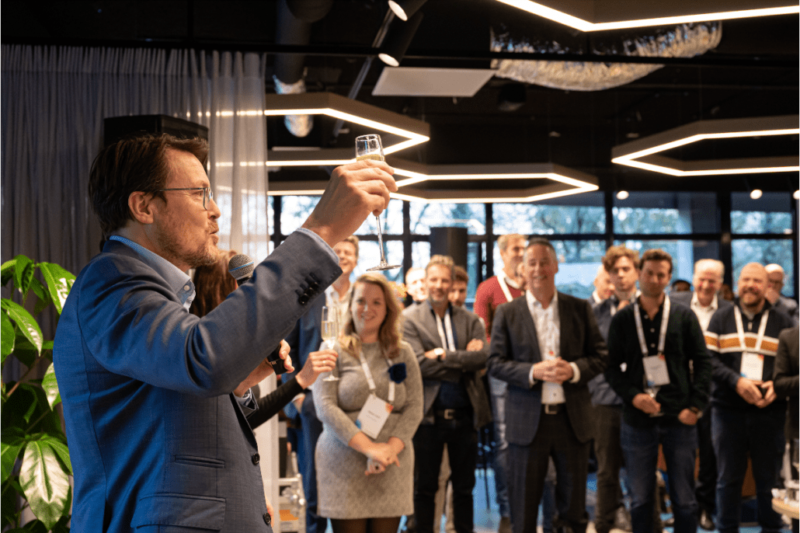 Techleap.nl Special Envoy Constantijn van Oranje raises his glass to the newly opened House of Quantum
International hub

Niels Bultink, CEO Qblox, is enthusiastic about the new place: "The Dutch quantum companies are laying the ground for the global value chain of quantum technology; where science and innovation go hand in hand with business. With these new buildings, Quantum Delta NL is providing us with the physical space necessary to further execute this mission. Already today, this makes the Dutch ecosystem a renowned international hub for collaboration and innovation."
Europe's smartest 12.000 square quantum meters

The location on the Elektronicaweg is just the beginning. Two more locations will follow in Delft. On the TU Delft Campus, construction is underway on the main building, which will become known as Europe's smartest 12 thousand square quantum meters. Locations will also follow in Eindhoven, Amsterdam and Twente. Together they must form the world's first national quantum campus. The development is part of the national program for quantum technology, which is coordinated by Quantum Delta NL.
World's top

Tim van der Hagen, President of the Board and Rector Magnificus of TU Delft: "Delft University of Technology is among the world's top universities in the field of quantum research. As a university, we are extremely pleased and proud with the arrival of the House of Quantum, which will form the heart of the Dutch quantum ecosystem. TU Delft Campus is the ideal place for business and science to work together on the development of this key technology."