The two most promising student start-ups from Delft won wildcards at the Grand Finale of the TU Delft Impact Contest on June 7th, which means they will represent the TU Delft at the Dutch 4TU Impact Challenge national final on November 16th. Their innovative business ideas related to solving societal issues will compete with six student start-ups from the three other technical universities: Eindhoven, Twente and Wageningen. The young teams from SizeRight and Biosphere Solar are gearing up for the exciting battle taking place at the sold out Slush Festival in Helsinki, Finland. Who are they and why do they have a shot at taking the national title?
Size matters
High return rates are the most pressing issue in fashion e-commerce: 1 in 2 orders is sent back, mostly because sizing and fit disappoint. Carbon emissions of transportation back and forth come into play, as well as returned clothes being discarded because it's not profitable to resell them.
Maleen Hiestermann (27), MSc Complex Systems Engineering and Management and co-founder of SizeRight, rolled up her sleeves and said 'not on my watch'. It was the moment she became a tech entrepreneur.
Together with two co-founders she started SizeRight, an app that offers hyper personalised clothing advice using your specific body dimensions measured by your phone's camera.
"We can't try on clothes online so to be sure we pick the right size, why not just order two? In most cases, returns are free of charge." Maleen casually says, while shrugging her shoulders. "By using SizeRight we'll make sure your first pick is also your final pick."
SizeRight is your virtual fitting assistant when it comes to shopping for clothes online
Pocket-sized tailor
Only in recent years have phone cameras advanced that they're now able to scan you in great detail. Pair that with SizeRight's carefully optimised algorithms and computer vision technology, and you're accurately capturing body measurements. Therefore, SizeRight's timing is perfect to launch an app that cleverly uses the camera that's in your phone.
The feasibility of their pocket-sized tailor app is proven by lab research. The team made visited the department of Digital Human Modelling, at the Faculty of Design Engineering, to learn from 3D scanning. Here, getting a high quality body scan with a phone camera was confirmed. For all of you wondering: clothes can stay on during the scan, as long as they are form-fitted and show the contours of your physique.
"We've developed the front- and backend of our app, now we're focusing on developing the AI that will process all the data. Ensuring privacy of the data collected is our highest priority." says Maleen.
In the beginning of next year a prototype will launch, which is going to be tested by a selective group of people.
Early adopters, potential users and potential clients, are already queuing in line to order new outfits using the app. "After pitching our idea at the kick-off of the TU Delft Impact Contest we were approached by several people asking about our concept and development timeline. A confirmation we're on the right track." she proudly states.
Sustainable fashion
We've heard the term 'sustainable fashion' before, but that usually points to the way garments are produced. SizeRight takes a different approach: a consumer centric online shopping experience to make sure your decision is right the first time, which makes buying your clothes very efficient.
Preparing for the Dutch 4TU Impact Challenge final is mostly gathering imagery to show at the event and deciding who will pitch in front of a live and online audience. Cleverly, their website with the option of pre-registering for the app will launch during the Slush Festival. No shortage of buzz here.
It's not about winning per se; generating exposure and broadening their network is a prize in itself. "We look forward to presenting ourselves in good fashion with a clear message." Maleen affirms.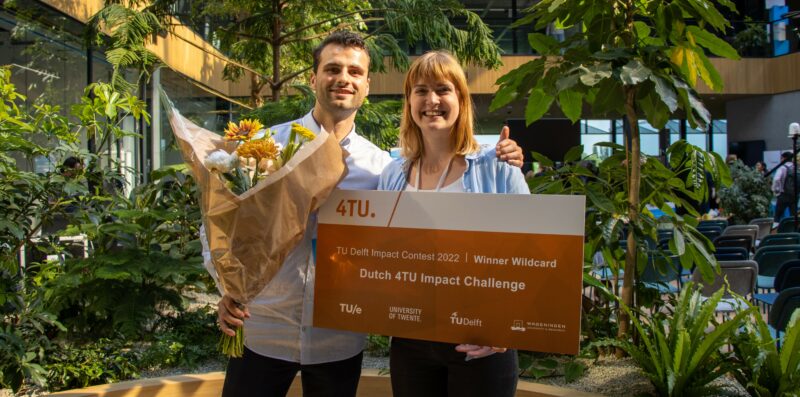 Maleen Hiestermann (right) and one of her two co-founders at the TU Delft Impact Contest 2022 final
Solar sharing is caring
Biosphere Solar is on a roll: after winning the TU Delft Impact Contest in the Ideation Category (idea phase) last year, this year competing in the Advanced Category (working prototype) they won the Audience Award and Wildcard for the Dutch 4TU Impact Challenge final. Quite a winning streak.
Earlier this year we wrote an article about their disruptive future proof solar technology; a repairable solar panel that can be dismantled and reused. 'Circular' (fully recyclable) and 'fair' (transparent supply chain) are words to describe their product, currently unheard of in the solar panel market.
What's more, the blueprint for their solar panel is open source which means everyone, including competitors, have access to it. A bold move traditional entrepreneurs will say, but Puck Wynia (24), MSc Industrial Ecology, says the word 'traditional' isn't in Biosphere Solar's vocabulary.
"We're here to disrupt the solar market in a positive way," Puck explains, "to keep the sector honest with regards to sustainability." She's responsible for outreach at Biosphere Solar, talking to other solar panel producers and convincing them of their vision: more collaboration and a level playing field in which all players acknowledge their joint responsibility to develop a circular product.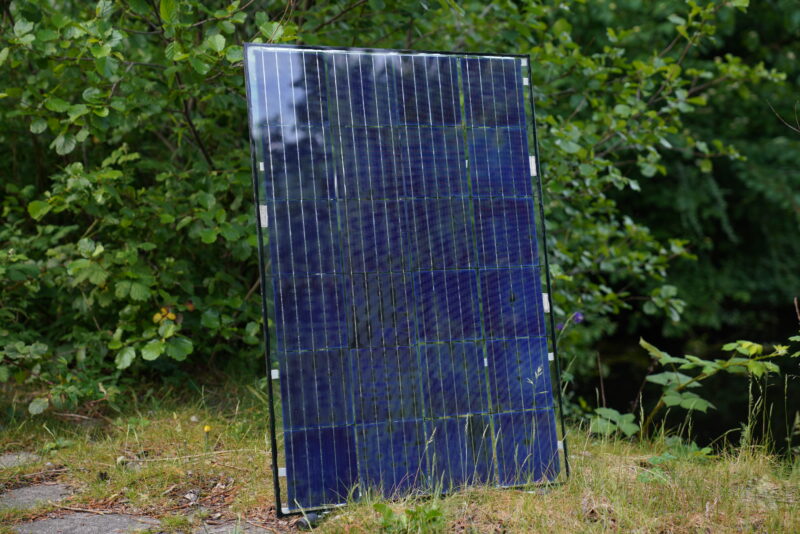 The blueprint for Biosphere Solar's solar panel is open source which means anyone can reproduce it
Sunny side up
So, what have they been up to since we last spoke? "The TU Delft Impact Contest gave us a tremendous familiarity boost", says Puck. That led to media attention, expanding their network and welcoming thirteen new colleagues over the period of just a few months.
The fresh team delivered a prototype that is being tested at field lab The Green Village on TU Delft Campus during the summer. With success: the test panel can withstand the Dutch weather and the grid connection is up and running. The three different layers of which the modular solar panel is built up of, and what makes it easily demountable and repairable, are holding up as expected.
"The further research and development we're doing now will soon result in a minimum viable product." Puck elaborates. It should be finished in January.
Culture is king
Although excited about the contest, Biosphere Solar was close to not joining the other finalists in Helsinki, Finland. The reason why says a lot about their DNA.
If it's not sustainable, it's not for Biosphere Solar. Therefore, travelling to Finland by aeroplane to compete with seven other Dutch student start-ups wasn't evident. "We had our doubts, but we finally decided on travelling to Helsinki by train. A much longer travel, but more environmentally friendly." Puck says. After explaining that much of their office furniture is second-hand, their lunches are vegetarian and colleagues are motivated to travel by bike and public transportation, that decision makes sense.
Also Biosphere Solar isn't hung up on winning; a good outcome would be talking to the right people and inspiring them to think differently about their respective industries. The company has big ambitions, according to Puck: "We believe circular products and open source technologies are the way forward. It's a bright, sunlit future!"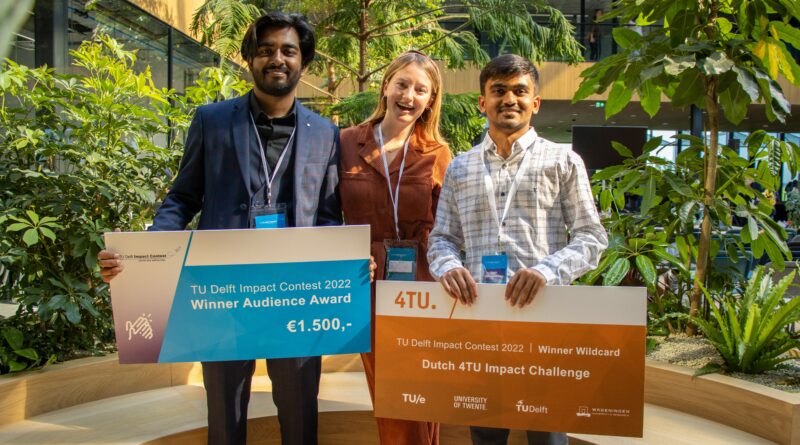 Puck Wynia (middle) with two of her team members at the TU Delft Impact Contest 2022 final
Will you be tuning in Wednesday 16 November between 3.20pm – 4.45pm to watch the exciting Dutch 4TU Impact Challenge? Follow this link to the livestream and see if one of these student companies from Delft walks away with the win.