Many gigabytes of valuable satellite data are waiting to be analyzed, but processing these large amounts of bulk data into useful information, such as a map that shows growth or reduction in vegetation, is a challenge. That is exactly where start-up Geronimo.AI saw a business opportunity. With the help of Artificial Intelligence (AI) they scan this abundance of data, draw conclusions from it and then present it in a well-organised manner. This makes up-to-date information such as the health of agricultural land or the quality of road surfaces easier to understand, which means money can be saved.
'Teamwork makes the dream work' said Luc van den Ende, Joost Dorscheidt, Joost Meulenbeld and Tom van Loef to each other in the spring of 2018 when they decided to do business together after completing their studies at TU Delft. Paid employment did not appeal to the foursome, the adventure of independent entrepreneurship was too appealing for that.
Lots of interests
"We didn't have serious responsibilities such as paying a monthly mortgage or raising children, so we figures now was the time to take the plunge," says 25-year-old co-founder Luc van den Ende. During his studies at the Faculty of Aerospace Engineering at TU Delft, he developed a broader interest in the commercial and management side of the field: "I didn't see myself working as just an engineer."
It was clear that their business would revolve around AI applications – hence the name. Which application exactly became clear after market research and discussions with potential end users.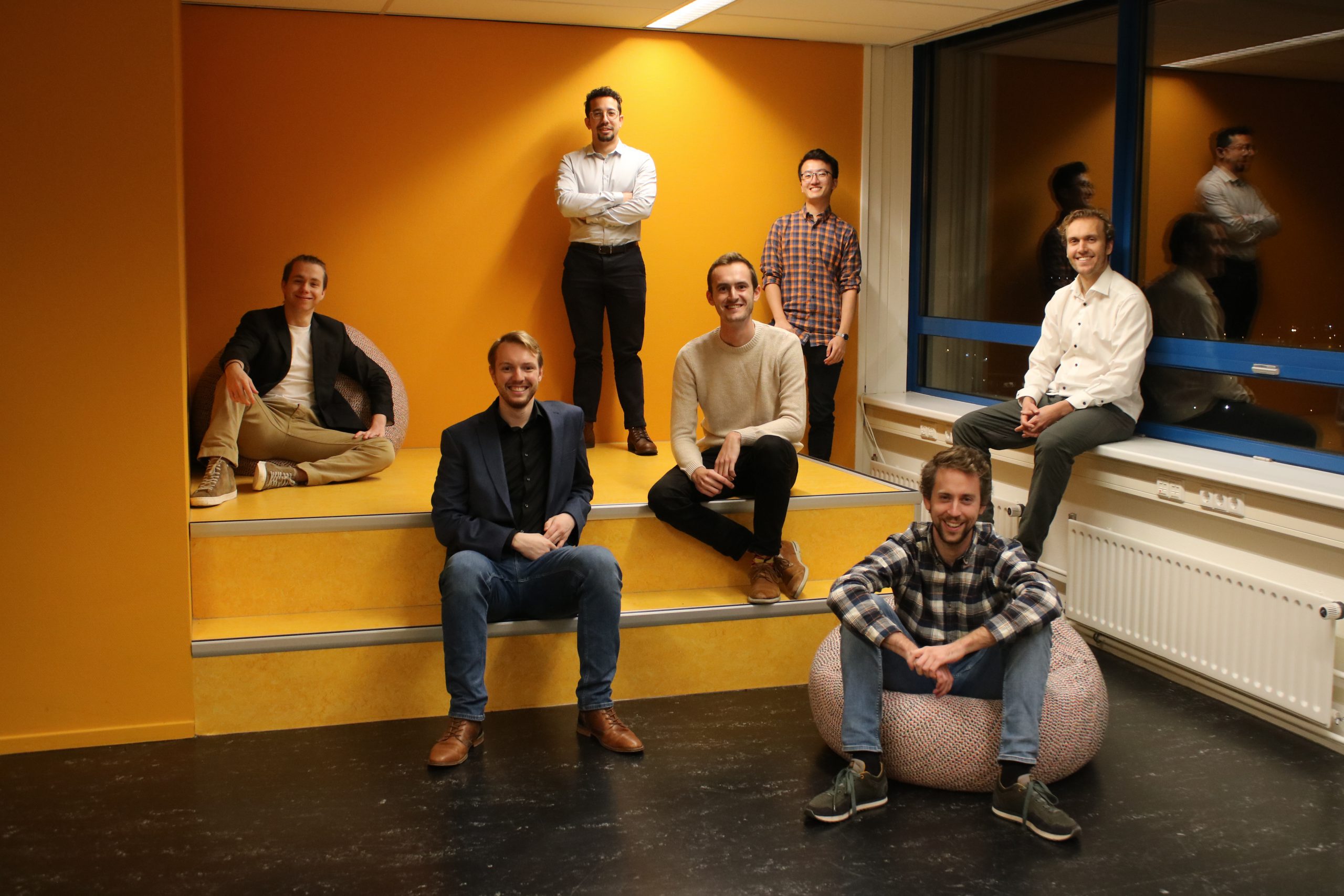 FLTR Marco Sala, Joost Meulenbeld, Jim Lee Tjin, Luc van den Ende, Yu Fee Chan, Joost Dorscheidt and Tom van Loef.
Startup in Residence
The 'eureka moment' followed in March 2019, during participation in the Startup in Residence program, an initiative of the Dutch national government. Within this program, a start-up is linked to a governmental organisation with a request for help, in this case the Ministry of the Interior. The department wanted to gain insight into the use of leased land by farmers in order to be able to check whether the soil quality is guaranteed. It needed to be carefully monitored whether the tenants adhered to the guidelines for planting different crops. This is important because growing the same crop in successive seasons decreases soil quality due to the growth of certain diseases.
Machine learning
To solve this complex issue, Geronimo.AI proposed scanning public satellite data of the Dutch surface using AI. In just a few minutes, computer software can recognise which crops are growing where and at what time. Because this approach is so radically new, so is the technology behind it. That's why the team decided to write this software themselves and – successfully – apply it in practice.
Geronimo.AI's innovation is linking available data to AI, in order to unlock relevant data for their customers. The company 'trains' a computer algorithm to discover patterns in the large amounts of data with which it is fed.
TUD Aerospace Start-up Voucher
While participating in the Startup in Residence program, the team at TU Delft also won the TUD Aerospace Start-up Voucher, which earned them 2500 euro and six months of coaching. "That gave Geronimo.AI a boost to move forward as we were able to compare and improve our technology to scan public satellite data. At the same time, we were able to connect with an experienced coach, Victor Rijkaart, who helped us a lot. That actually went so well that Victor is now an advisor within our Advisory Board ", Luc acknowledges. Slowly but surely the company Geronimo.AI and its expertise is taking shape.
Huge files of satellite data
Geronimo.AI's satellite data comes from the European Space Agency (ESA), which provides free access to a huge database of satellite data. "At the moment we are particularly interested in data, both satellite data and aerial photos taken from airplanes, of the Netherlands, for example to be able to detect landscape elements such as trees and shrubs."
The software converts this data into an overview in which it's analysed and grouped. Customers can use it to read specific information, draw conclusions and then act on it. This saves significant costs.
RoadMapp and CropMapp
The entrepreneurs are working hard to take the next step: developing their own products to market. For instance with RoadMapp and CropMapp. RoadMapp predicts when a road is due for maintenance, so that repairs can be better planned and maintenance budgets can be drawn up more accurately. CropMapp detects which types of crops grow where, which is useful to map the diversity of vegetation and to be able to report monthly on increases and decreases.
Aerospace Innovation Hub
Geronimo.AI holds office in the Aerospace Innovation Hub, a pre-incubator located in the top four floors of the Faculty of Aviation and Aerospace Technology, where (student) entrepreneurs, researchers and industrial parties work together to develop innovations in the field of aviation, space travel, and unmanned drones. This leads to fruitful cross-pollinations with other companies there. Aerospace students have also recently started internships at Geronimo.AI, which means they are close to the source of talent. That's important for the growth ambition they have.
Collaboration within the TU Delft Campus ecosystem also provides valuable contacts. For example, the Valorisation Center refers companies looking for an innovative solution to Geronimo.AI. "We have great contact with the Valorisation Center and thus put ourselves in the spotlight, which offers opportunities."
Hallmark
Geronimo.AI wants to continue the upward trend. In the coming period, the entrepreneurs will mainly be busy growing. Luc: "We want to further expand our product portfolio, add new colleagues to the team and perhaps find an investor in the long term. Geronimo.AI must become a hallmark when it comes to translating data into valuable, clear information."