The accelerator building NEXT Delft on TU Delft Campus was officially opened yesterday. Present were Maaike Zwart, Alderman for Sustainability, Work & Income and Economy for the City of Delft; Meindert Stolk, member of the Provincial Executive of the Province of Zuid Holland; Rob Mudde, Vice-Rector Magnificus and Vice-President Education of TU Delft; and Edwin van de Woestijne on behalf of the ASR Dutch Science Park Fund, owner of NEXT Delft. The most important participants and partners, however, were the innovative companies that have set up business in the building.
The accelerator building NEXT Delft on TU Delft Campus currently offers office and manufacturing space to 15 innovative companies and is therefore almost fully occupied. NEXT Delft is the place to be for impactful companies from the entire region and for companies that have got past the start-up phase and want to grow further. By setting up business in NEXT Delft they remain part of the community and the innovation ecosystem on and around TU Delft Campus. The presence of the many innovative companies in one building is what creates extra dynamism and inspiration.
So the spotlight at the grand opening was on the companies that have set up business in NEXT Delft. They presented themselves and their innovations on the Innovation Floor. The plans for the expansion of NEXT Delft were presented there too.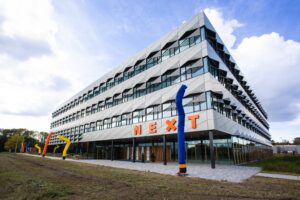 10,000 m2 of extra office and manufacturing space
It was already clear when NEXT Delft was being designed that there was great demand for office and manufacturing space on the TU Delft Campus. Many innovative companies want to be part of the ecosystem, which has unique opportunities for collaboration and co-creation. Consequently, a further expansion of NEXT by 10,000 m2 was taken into account right from the start. Preparations for this expansion are in full swing.
"The TU Delft Campus is a unique place for developing radical innovations that make a contribution to major social challenges in fields such as climate, energy, public health and digitisation," says Rob Mudde. "The many start-ups that have set up business here – 225 of them already – play an important part in this. We believe in the power of cooperation to accelerate innovation and we are pleased that the ASR Dutch Science Park Fund has brought into being a building where Delft's enterprising engineers and other innovative spirits feel at home."
"By investing in a building like NEXT Delft, the ASR Dutch Science Park Fund not only has a positive impact on the ecosystem of TU Delft Campus but is also creating an ideal environment for innovative impactful companies. The building is also a meeting place where academics, entrepreneurs and companies can collaborate. The sustainable building is in keeping with TU Delft's ambition to be a CO2-neutral campus in 2030," said Edwin van de Woestijne on behalf of the ASR Dutch Science Park Fund.
Hotspot of innovation
NEXT Delft will host a bustling community for scale-ups and other entrepreneurs that brings people, knowledge and inspiration together. As an example, NEXT Delft is organising – in cooperation with the TU Delft Campus and the other communities in the ecosystem – various events and activities. Substantive and social, from case study and scale-up programming to pub quiz and networking get-together. The building has a variety of meet & greet facilities such as a meeting centre, a co-working and community space, and food and drink outlets, offering a wide range of opportunities for getting together, sharing knowledge and collaboration.
NEXT Delft springs from the close collaboration between the ASR Dutch Science Park Fund and TU Delft and has also been facilitated by the City of Delft and the Province of Zuid Holland.
Delft
In 2022, Delft was once again named the best place for entrepreneurs. The many companies, start-ups and knowledge-based institutions in the city are a source of knowledge, innovation and talent. In Delft, solutions are devised and produced for societal challenges in the fields of climate, energy, healthcare, safety and nutrition. Consequently, Delft is a hive of new activity that makes a contribution to the economy of Zuid Holland and of the Netherlands as a whole. Places like NEXT Delft play an important part in the ecosystem.