Multi-storey car park in Rotterdamseweg
Right next to Building 45, between Rotterdamseweg and Leeghwaterstraat, a new (demountable) multi-storey car park is about to be built. This is in line with the TU Delft vision for Mobility & Accessibility, which includes a move away from fragmented car parking spaces spread across the campus towards concentrated car parking facilities on the edge of the campus.
The multi-storey car park will ultimately provide 600 parking spaces. From this location, the surrounding buildings can easily be reached on foot.
In the years ahead, TU Delft also has plans to replace various parking spaces elsewhere on campus with larger, easily accessible parking facilities located directly on the campus ring road.
Two phases
The new multi-storey car park is being built in two phases. First a basic construction with three stories and a timber façade, offering a total of 450 parking spaces. This structure has been designed to be circular, enabling it to be reconstructed elsewhere in the future if required. During the second phase, an extra storey will be added and solar panels installed in the roof. The possibility of installing solar panels in the façade will also be explored. This second phase will be further elaborated in collaboration with the faculties of Architecture and the Built Environment and EEMCS. It has been agreed with the Municipality of Delft that the second phase must be completed by October 2022.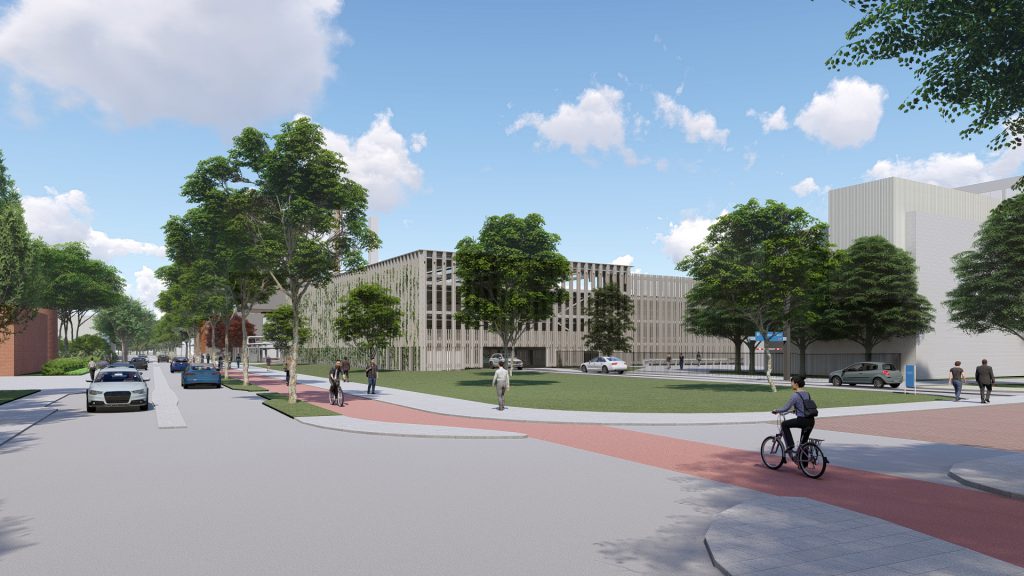 View from the Rotterdamseweg
Sustainability
The design of the new car park in Rotterdamseweg reflects TU Delft's sustainability ambitions concerning CO2 neutrality, circularity, biodiversity/ecology and climate adaptation.
These ambitions are reflected in the building's façade and roof in various ways. For example, FSC-certified Accoya timber is being used for the façade. In addition, both the façade and the entire structure can be disassembled and each component can be re-purposed. The building also helps boost biodiversity and ecology thanks to the inclusion of climbing plants growing along the façade and the integration of bird and bat boxes and insect hotels in the wooden slats.
The roof will be further developed with the assistance of the faculties of Architecture and the Built Environment and EEMCS. There will be a green area around the edge of the roof to help store water on the roof and cool the building. Solar panels will be installed in the middle of the roof and the energy will be used to charge electric vehicles on the ground floor. Any excess electricity can be fed into the TU Delft electricity network. Finally, the car park will feature energy-efficient, smart LED lighting, preventing any unnecessary power consumption.
Facts and figures
Demountable building
600 parking spaces
Energy-efficient LED lighting
Façade planting
lntegrated bird/bat boxes and insect hotels
Solar panels on the roof to charge electric vehicles on the ground floor
Green roof edging to store water and cool the building
Planning
Start construction: Q4 2020
Phase 1 (+/- 450 parking spaces) in use:  Q3 2021
Phase 2 (+/- 150 parking spaces) in use:  Q4 2022
Meer informatie
Vragen over dit project op de campus? Neem contact op met team Parkmanagement van Campus and Real Estat