Several hundreds of viewers watched the online Grand Finale of the TU Delft Impact Contest on the 3rd of June unfold, where 14 of the strongest student teams pitched their innovative business ideas related to solving societal issues. In the end five teams walked away with six awards, winning prize money up to €20.000,-. Of those teams just two were granted a 4TU Wildcard, which earns them the right to represent the TU Delft in the Dutch 4TU Impact Challenge national final. Who are winners Sourcer and CoaPath, and what are their chances of beating the best of the best in what's looking to be an exhilarating nation final?
Having won the TU Delft Impact Contest final, an awesome feat in itself, means that the competition for student teams Sourcer and CoaPath is only just beginning. They've been selected for the Dutch 4TU Impact Challenge taking place in October, a national final in which the four universities of technology in the Netherlands, united in the 4TU.Federation, are challenging the brightest Dutch student teams to present their promising innovations. In other words: the heat is definitely on.
Fake news has nowhere to hide
"The future is now", says Wout Haakman, co-founder of Sourcer, "and in the future people rely heavily on online news." That's why for the past five months their team has been working tirelessly on a content-labelling algorithm. At the core of their browser extension is an algorithm which will help people get insight faster into what they're reading, offering a solution against fake news.
According to Sourcer, fake news sets the global economy back a staggering 78 billion dollars or 66 billion euro per year. "We recognised the issues with how people currently consume news", Wout explains. It's challenging to determine if news is factual or faulty because information about a certain topic can be found on a multitude of channels and sources. Readers are at the mercy of online media while they oftentimes lack the knowledge to judge if something is credible or not. This is where Sourcers' magic happens, that magic being artificial intelligence.
Wout: "Sourcer shows you that there's other information out there, supporting the reader to form an educated opinion about a certain topic." The algorithm they developed can analyse the point of view of an article, actively look for similar articles and offer these as reading suggestions. Readers can then choose to compare information and fact-check its credibility.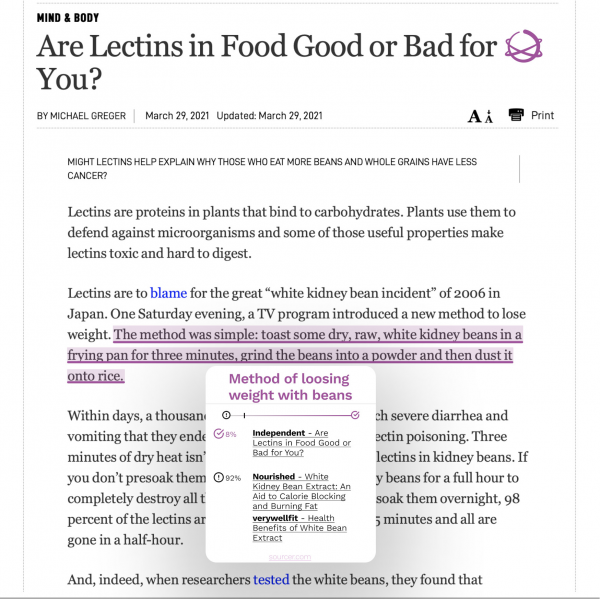 Sourcer's browser extension uses an algorithm that suggests alternative news sources
The first version of their free browser extension is set to launch in the next couple of weeks, to be tested by a small group of people first before making it widely accessible to the public. Although similar technology is out there, Sourcer's artificial intelligence goes one step further by actively offering alternative news sources.
Wout takes the times to emphasise their approach is unbiased: "We're passionate to contribute to a world where people can trust online news." He's quick to reply when asked about the corruptibility of their technology, which has the power to steer people's opinions by offering certain information and leaving other information out: "Sourcer will be and remain completely independent."
The team is looking forward to the Dutch 4TU Impact Challenge, even more so to prove their worth. "Not everyone is confident that what we want to do will actually work." says Wout. That's why the launch of their prototype is a big deal. "Seeing it work makes it easier to believe what's possible, which will greatly help the case we'll be making in the national final."
Testing made 8000% cheaper
If the coronavirus has taught us anything, it's that testing for pathogens is here to stay. Team CoaPath jumped to that conclusion one year ago, when they started working on a patent from TU Delft's Innovation & Impact Centre to detect pathogens with the naked eye. The test had to be dirt-cheap and unskilled people should be able to conduct the test. 'Challenge accepted' Sjors Temmerman, co-founder of CoaPath said.
"Because of my background we started testing on viruses in potatoes", says Sjors. CoaPath quickly delved into the niche agricultural market and because his father has a potato farm, there was no shortage of test subjects. Sjors elaborates: "International regulation requires potatoes to be tested on viruses before they can be exported." That's to prevent the spread of viruses in potatoes and negatively affecting yields and potentially damaging crop fields. The reason is clear but it's a concern amongst farmers, because these tests aren't cheap.
At the moment, the government (the Nederlandse Algemene Keuringsdienst) is responsible for conducting the tests on potatoes meant for international trade, however for national trade farmers are free to decide whether and how they want to test their crops. This is where CoaPath comes in.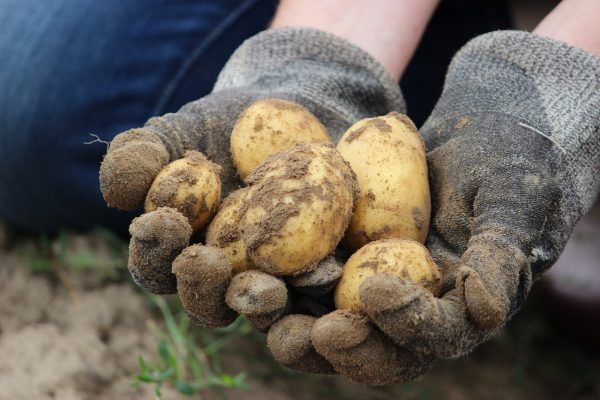 CoaPath tests for pathogens commonly found in potatoes
"We want to supply on-site tests for the agricultural market, which are low-priced, easy-to-handle, and reliable." Sjors clarifies. Right now a standard test will cost 90 euro and takes one week before the results are shared, as opposed to 5 euro for a test and a mere half hour before results are in with CoaPath. "80 times cheaper and way, way faster", Sjors proudly states.
As opposed to current comprehensive tests, CoaPath proposes binary testing to detect viruses, bacteria or parasites. Simply put, the test gives you a yes or no answer. This approach works well when you're trying to eliminate certain common pathogens, for instance the ones found in potatoes.
CoaPath is able to cut costs by enabling farmers to conduct a test on-site themselves instead of in a costly laboratory by trained personnel. Also, tests don't have to be transported to an external location which saves time and money.
"We've already been approached by farmers asking for our test after hearing about our controlled testing with a small group of other farmers, so that's a very good sign." Sjors confidently affirms.
He's eager to step on the national stage, at the Dutch 4TU Impact Challenge: "I'm very happy with our performance so far, we'll be looking to perfect our pitch and giving it our best shot."
Big shoes to fill
The two ambitious competitors from TU Delft have some big shoes to fill. Last year, the TU Delft Impact Contest saw Team ZED (Zero Energy Development) walk away with a wildcard for the national final where they managed an overall win.
The start-up of TU Delft students is developing a B2B IoT solutions provider, ensuring that companies can use wireless 'battery-free' devices. They develop battery-free applications for a wide range of companies, which will limit the 35 million batteries currently in use. This way they contribute to both sustainability and working conditions.
Although a tough decision, overwhelming passion and potential global impact made the independent jury crown Team ZED as the undisputed winner.
Team ZED introduces themselves in this video during the national final last year