The coast of Scheveningen is mostly known for two types of visitors: beachgoers with umbrellas in the summer and New Year's divers with Unox hats in the winter. A third visitor, the innovation-oriented entrepreneur, is like a fish on dry land… Right? Not at all, because all year round this 'smartest part of the North Sea' is run by Proeftuin op de Noordzee, an advanced test area of 10 by 10 nautical miles (18 by 18 kilometers) just off the coast of South Holland. It is unique in the world, because the exceptional environmental factors of water, wind and currents form a salty paradise for collecting, studying and sharing data. The perfect climate for entrepreneurs who want to test something, even on a stormy day.
It was a challenge in the maritime sector: testing and demonstrating radically new products outside the controlled environment of the laboratory. But that has changed in 2018, when Proeftuin op de Noordzee opened its doors to make this possible.
TU Delft is working with the Municipality of The Hague, KPN, TNO, Sailing Innovation Centre, Svašek Hydraulics and the Watersportverbond to test innovations in real-world conditions in this field lab. And there is a need for it, the innovations of Geodelta and Dutch Wave Power prove.
'I had an idea, and it works'
In addition to being a TU Delft alumnus (Geodesy, now Geoscience & Remote Sensing), Ardis Bollweg is also world champion in the Laser Radial class (1989 and 1990). This is the same boat with which reigning Olympic champion Marit Bouwmeester will sail during the Olympic Games in Tokyo this year.
"I have made my hobby my field of work." says Ardis passionately. For Geodelta, she has completed a series of successful tests in the Proeftuin op de Noordzee, in which the curvature in the sail of a sailboat is measured in a completely new way and translated into a 3D sail shape.
Trimming a sail by eye is a craft in the sailing world; this is crucial to find the optimal airflow in the sail and to sail as fast as possible. Only the best sailors can do this using telltales, stripes or small strings on the sail. To help sailors find the best sail trim, the introduction of Digital Telltales technology is in the works that will calculate the optimal curvature in the sail (almost) real-time. Using cameras, a 3D model shows where the curve is, at what angle the airflow enters the sail and at what angle it leaves the sail. The first tests with this technology have been done, in collaboration with sailors from TeamNL, and the reactions from TeamNL and the Sailing Innovation Center are enthusiastic.
Giant leap forwards
"This is a giant leap in sailing technology," Ardis says resolutely, "because an old-fashioned tool is quantified with data." And in a unique way, because the Digital Telltales system is not used in the same way anywhere else in the world.
Last year Marit Bouwmeester's sail was used for testing. A dinghy with two cameras on board translated the curvature of the sail into a 3D sail shape using circular barcodes attached to the sail. The change of the curvature during sailing was accurately monitored and recorded using software.
Ardis was supported by TU Delft student Danfeng Mu, who wrote her master's thesis on the subject. She built a dashboard in which the data is captured and could already be read a few hours after the practice session. The result: trimming can now be quantified and analysed.
The wind is rising
"We have proven that it's possible." Ardis says. "The technology is there, but we have to further develop it to make it even more practical to use." For example, an updated version of the dashboard is on the wishlist and the cameras are not resistant to salt water. Lessons that can only be learned from testing in the outdoor environment.
Ardis praises the involvement of Proeftuin in de Noordzee and the Sailing Innovation Centre, which made the tests possible: "They gave me the push I needed."
Pure, Dutch wave energy
Experienced surfer Sten Swanenberg, co-founder of Dutch Wave Power and also a TU Delft alumnus (Industrial Design Engineering), often found himself entertaining the thought: 'How do we manage to convert Dutch waves into energy?' It was only logical that he knocked on the door of Proeftuin op de Noordzee to launch a prototype.
Dutch Wave Power has developed a wave energy converter that can convert waves into electricity in a cost-efficient way. The novelty of this floating body is that it moves with the rotating movement of the waves: up and down and front to back, unlike similar models that only move up and down. Therefore, Dutch Wave Power generates more energy and the return is higher. The floating body is completely sealed off from the salty seawater, making the technology very durable as it's not affected by corrosion. The video below shows how it works.
A smart low-tech innovation
"We have an advanced concept that we are going to take to sea." Sten says convincingly. He explains he's been experimenting in his attic in a homemade 'test gutter'. This test tank saw several models fall short until, in an ultimate attempt, one model performed well beyond expectations.
The model was gradually built into a larger version and tested in the Delta Flume of Deltares, a modern wave flume of 300 meters long. With an impressive score, it was validated for efficacy. The next step: a real-world test in the North Sea.
"The term high-tech appeals more than low-tech, but low-tech is what our innovation is about." says Sten. Dutch Wave Power has kept the hardware as simple as possible to deliver a 'drop & connect' unit; after a quick launch, it only needs to be connected to an electricity cable that supplies directly to the power grid or feeds a battery. So no complex installation.
Less maintenance means less costs, they argue. The advantages of simplified wave energy converter technology: it doesn't break down as fast as other technologies, it is more cost-effective, it is easier to widely roll out and it is easier to install.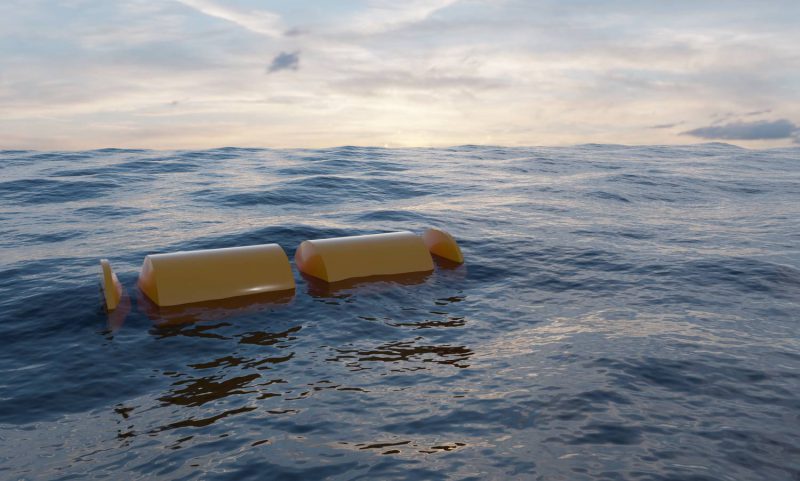 A sea of insights
Dutch Wave Power wants to start testing at the end of the year, and it couldn't come fast enough according to Sten: "The Netherlands risks missing the boat on wave energy. For example, Scandinavian countries are one step ahead of us." Although converting wave energy into electricity is not yet widely applied, competition in other coastal countries such as Spain and Portugal is lurking.
"We are happy with the Proeftuin in de Noordzee, because here we can prove the effectiveness of our concept." Sten emphasises. Among other things, the testing must demonstrate whether the floating body is indeed as robust as expected. These results can offer investors certainty and makes Dutch Wave Power one step closer to an end product that is ready to be sold.