To celebrate the topping out of the new building cepezed, Oldelft Ultrasound and the ASR Dutch Science Park Fund raised a flag in the presence of alderman Bas Vollebregt last Friday, marking this construction milestone. This nature-inclusive circular building, which will provide 3,840 sq. m. of floor space, will be delivered to the ASR Dutch Science Park Fund with a BREAAM 'Excellent' certificate at the end of 2020.
The new building in the southern section of the TU Delft Campus is a cepezed turnkey project. cepezedprojects has developed the building and it was sold to the ASR Dutch Science Park Fund in the autumn of 2019; it was designed by cepezed architects and cepezedinterieur, and cepezedbouwteam is currently working on its construction.
The design features a strong focus on circularity. The steel construction can be dismantled due to its 'dry' construction method and the use of removable hollow-core slab floors. The building can also accommodate expansion in the future, which also makes it more sustainable. It is highly flexible and could potentially accommodate multi-tenant occupancy. With its intrinsic circularity, the building is fully prepared for any future change in usage.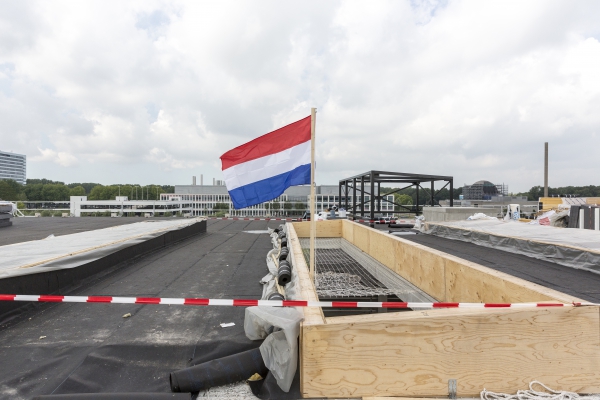 The building's green facades are nature-inclusive, and will be planted with a mix of climbing plants chosen following a study of the local ecosystem which was commissioned by cepezed. An ecological report and a nature-inclusive work protocol were drawn up for the construction project, including requirements to make the construction site safe for flora and fauna. cepezedbouwteam ensured compliance by carrying out weekly inspections, imposing limits on lighting around the construction site, and ensuring that rainwater has not been discharged into the habitat of the water shrew.
Rob Smallenburg, CEO of Oldelft Ultrasound commented: "Oldelft Ultrasound was established in 1939 at the Oude Delft in Delft. Clearly, leaving Delft was never an option for us. Our current location in the Delftech Park had become too small. This new building will give us the space to accommodate the growth that we anticipate in the future. We will be able to continue developing and manufacturing our medical ultrasound transducers for many years to come at this new location. Our long-standing partnership with TU Delft is particularly important to the development of new products. We are therefore delighted with our location on the TU Delft Campus. This property, which has been designed, developed, and built by cepezed, promises to be a wonderful new home for us and we can't wait to move in."
"Oldelft Ultrasound encapsulates all the unique characteristics of Delft's local economy: innovative, high-tech, successful and – perhaps most importantly – making products that really help society! At the City of Delft, we are particularly proud of this new gem for our city, which puts Delft's knowledge to work around the globe. This new head office will strengthen Delft's position as a hub for technology and innovation. Delft's companies are world leaders in a range of different technology sectors. Companies such as Oldelft, which have been located here for many decades, also draw in new companies because there is so much collaboration between research institutes, the business community and the municipality. And that is precisely what makes Delft such an excellent location," said alderman Bas Vollebregt, who holds the economy portfolio.
Luc Joosten, the fund director for the ASR Dutch Science Park Fund, commented: "Locating on the TU Delft Campus helps to optimise collaboration and knowledge sharing between the university, research institutes and the business community. The campus offers so many facilities and it has a close-knit, innovative community in which all parties benefit from the added value of the location. It is an inspiring place to work and as a company you have a unique pool of talent right on your doorstep. Oldelft Ultrasound is the perfect example of a company that fits right in here. We are therefore delighted that we can offer Oldelft Ultrasound an inspiring working environment that will benefit the pioneering and high-quality work that they do."
Menno Rubbens, project developer and director of cepezedprojects: "The coordinated efforts of all cepezed experts has ensured that Oldelft Ultrasound will have a flexible and future-proof building in which they can continue to grow and develop. This development means that Delft can retain a knowledge-intensive and innovative manufacturing company for many years to come, and that it great to see."
Rob Mudde, Vice-Rector Magnificus / Vice-President for Education, of the Executive Board of TU Delft: "I am very pleased that this milestone has been reached and look forward to the day when Oldelft Ultrasound opens its doors here. We see countless opportunities to further build on our existing partnership, both in the scientific field and in the development of innovative medical instruments, such as living labs. In addition, the arrival of the company will further strengthen the position of TU Delft Campus as the ultimate location for collaboration between companies and knowledge institutions on radical innovations. The circular building also fits perfectly with our ambition of a sustainable and carbon-neutral campus."